Woodie
20 Jun 2018


happy holiday
It was the first time our dog had been to a kennel so we were expecially careful about our choice, we wanted his experience to be a happy one. We were not disappointed, the staff were excellent, accommodation terric , an altogether good experience. We would certainly recommend using this kennel again.

Banjo & Matilda
08 May 2017


The best! We travel 2 hours to take our dogs here!
Our show kelpies Banjo and Matilda have never stayed anyway in their lives (4 & 2 years old). We visited many pet resorts and travelled from Northern Rivers NSW for 2 hours to get to AAA Pet Motel and it was on top of the list straight away. We booked the dogs in for a one day care so they got used to it and we knew it was right when they came out happy. Then we went away on our holiday, we booked presidential suite and we couldn't have been happier and more relaxed knowing they were in good hands. There is a lot of space for them to run, they got one on one attention which is important, and they played with them 3 times a day which is perfect for our energetic kelpies. The staff put a lot of love into our dogs, they understand dogs and you know it is a winner when the dogs are happy when we go back. The staff are amazing, understand dog psychology, friendly and spend time talking about our dogs in detail. We cannot speak highly enough, we even take them for a day when we go to the Gold Coast for a visit. Thank you again all the staff at AAA Pet Resort! Banjo and Matilda love you.

Barney
07 Jun 2016


Greatest dog hotel EVER!
My dog is my whole life and we are VERY close! I was really worried about booking in a kennel again after my first experience with another kennel on the Gold Coast. But after seeing how well the AAA pet motel looked after Barney I realised that it's not even a kennel!!! It's a hotel for pets to be spoiled and loved like they do at home. I went to another kennel and it was literally a tin shed and they didn't even let me see the rooms!!! I was allowed to come through and look at the whole hotel at AAA pet motel and then when Barney came home happy and smelling great I knew this place was the best!!! Never going ANYWHERE ELSE!!!

Karma Gizmo and Skizzy
02 Jun 2016


FANTASTIC PET SERVICE!!!!!!
I had my cat and two dogs board at aaa pet motel for just over 10 days when we went overseas.

kiko and skylar
20 May 2016


wouldnt go anywhere else!
aaa were so good when i left kiko and skylar with them. they were so wonderful and updated me on there progress because kiko was nervous. the girls would come down from the house to settle him in at night so he wouldnt be so scared. there service is better than anywhere else we have been and there rooms are nicer then some of the hotels i have stayed in. would never go anywhere else. they are amazing!!!

Casper
19 May 2016


Fantastic place for pets
It's great to see someone is doing things to make my pets stay special, they kept me up to date with heaps of photos on Facebook. Love it

Buddy
20 Jul 2015


Fantastic!!
Our Buddy is always super happy to visit all his friends at the AAA Pet motel. They have spacious rooms, with plenty of playing yards. Our experience was great and would recommend then to anyone looking for a homely experience.

Boofy
20 Jul 2015


I would book there myself!
AAA Pet Motel is immaculate. Their rooms are intended for dogs but are good enough for humans to stay in as well. I'd book there myself! They were fantastic with my dog and answered my million questions. I was quite pedantic about having my dog board anywhere because he stresses a lot, but they cared for him the same way I do at home and he wasn't locked up in a cage - he was living it up in the Presidential Suite, watching dog-themed movies on his leather lounge suite!!! And yes - it's for dogs!

Bear
17 Jul 2015


Won't book anywhere else!
My dog LOVES AAA Pet Motel. He jumps up and gets excited as soon as we pull into their driveway! When we return to pick him up, he smells wonderful and he doesn't even want to come home! He wants to stay and play with his friends. We just cannot flaw the AAA staff. They treat the dogs as their own family and there's no other resort out there that's like it!

Bingo/Lulu
08 Jul 2018


Understanding of special needs pets
I really appreciate the service that was given to me from the AAA Pet Resort. I have a very old Russian Blue who is very fussy with eating and a very naughty but cute Maltese Shitzu. I called multiple times while I was on my month long trip and the staff were so patient and understanding with me. During the holiday Lulu (Maltese Shitzu) had a birthday and they even sent me some birthday pictures which I was over the moon about! I thought it was beautiful that they celebrated with my Lulu on her special day. They informed me that Bingo (Russian Blue) was not eating the food they were giving him and they asked me what they were allowed to give him, making sure he had no dietary restrictions. I told them they can do whatever they need to do. The staff went out of there way to get different foods to test on him to get him to eat. When I came home Bingo and Lulu looked really good and really healthy. I was so happy that my second children were cared for so well and I'll definitely be back again and recommend to all my friends and fam! Keep up the good work!

Karma Gizmo and Skizzy
02 Jun 2016


FANTASTIC PET SERVICE!!!!!!
I had my cat and two dogs board at aaa pet motel for just over 10 days when we went overseas.
Write a Review. Pets need you.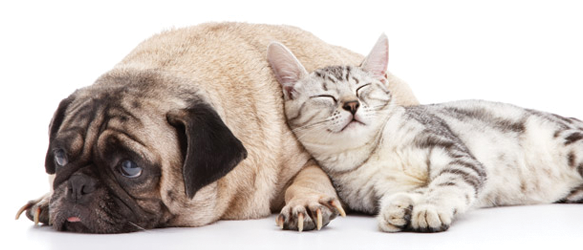 AAA Pet Resort
---
---
Service:
---
---
Related Businesses
By Suburb
By State